Testimonials
E
"ecoBETA is one of the products we are recommending for large-scale water efficiency trials for domestic and municipal retrofit projects. The product is well-designed, effective and good value for money. ecoBETA can deliver large sustained water savings at a good price, is easy to install and requires little or no maintenance."
Jacob Tompkins
Director
WATERWISE
"We have had ecoBETA water savers in our toilets for almost 2 years. They are incredibly easy to assemble and we have not had any problems with them. We have been able to see a saving of approx. 20% on our water consumption, so therefore I can highly recommend them."
Boligselskabet Kirstinevang
Inspektør Allan Fabritius
Ejendomskontoret, Egebjerghaven 86, 2750 Ballerup
"We have installed 2-flush toilet water savers, water savers on the taps and Easy Clean ceiling showers. Thus, we have saved 600 m3 of water, from a water consumption of 2400 m3 the year before. 1 m3 of water costs DKK 32.63, ie. we have saved DKK 19,578, we invested DKK 20,200. We are a primary school with 675 students, 80 staff, leisure scheme and leisure users of changing rooms .."
Lundergårdsskolen
Tek. Serviceleder Vagn Quist Jensen
Nordens Allé 15, 9800 Hjørring
"I would like really to thank you for the very high quality products you have installed in our property. I am delighted to inform you, that by installing ecoBETA water saving devices we reached about 25 % saving in our monthly water consumption. Again thank you and very best regards."
Radison SAS Resort El Quseir
Dir. of rooms Mohammed Fadl
El Quseir, Red Sea, Egypt



"We have been using ecoBETA products for the last 4 years in our council area. We have had absolutely no problems with the water savers that have been installed in our cisterns, the toilets have functioned as they should, and Lyngby-Taarbaek Municipality has reaped the benefits of up to 25 % water savings on an annual basis. As the energy engineer for Lyngby-Taarbaek Municipality, I can highly recommend ecoBETA."
Lyngby-Taarbæk Kommune
Pramod Sheth
Technical Administration, Building Department, Lyngby Torv 17, 2800 Kgs. Lyngby
"Thank you for installing water savers. It took a while before you persuaded me to install water savers on our 10 toilets at the school. But it was good we got it on, because in the part of the building where they sit, we only use 50% of the amount of water we used in the past. This is a saving of more than DKK 5,000 per. year. So the investment pays off well. Extra plus - the fine 1-flush quality toilets are preserved. Thank you."
Andreasskolen
Finn Højland
Blomsterhaven 1-5, 4300 Holbæk
"After reviewing the institutions where we have installed water savers from ecoBETA, I can now see that we have saved approx. 1300 m3 of water, divided into 12 day care institutions and 6 schools. It should also just be mentioned that the water savers have only been installed during the month of May 2007, so they have really only had an effect for 6 months. We are determined to continue using your product, as there are significant savings."
Struer Kommune, Kommunale bygninger
Frank Andersen
Østergade 21, 7600 Struer
"Just a little greeting to tell you that we can now really see a saving that wants something. In the period from 01-10-06 to 01-10-07 we had a consumption of 1707 cubic meters of water, and it had correspondingly fallen to 879 cubic meters in the period 01-10-07 to 01-10-08, which we have calculated to a saving of 48 ½%, and we are quite happy about that, as the water prices here in Taastrup have been announced a quite large increase in the future."
Med venlig hilsen
Pedel Bjarne Engelsen samt ledende pedel Marinus Madsen
Høje Taastrup Gymnasium
Frøgård Alle 2, 2630 Taastrup
Please check our overview of references via interactive pdf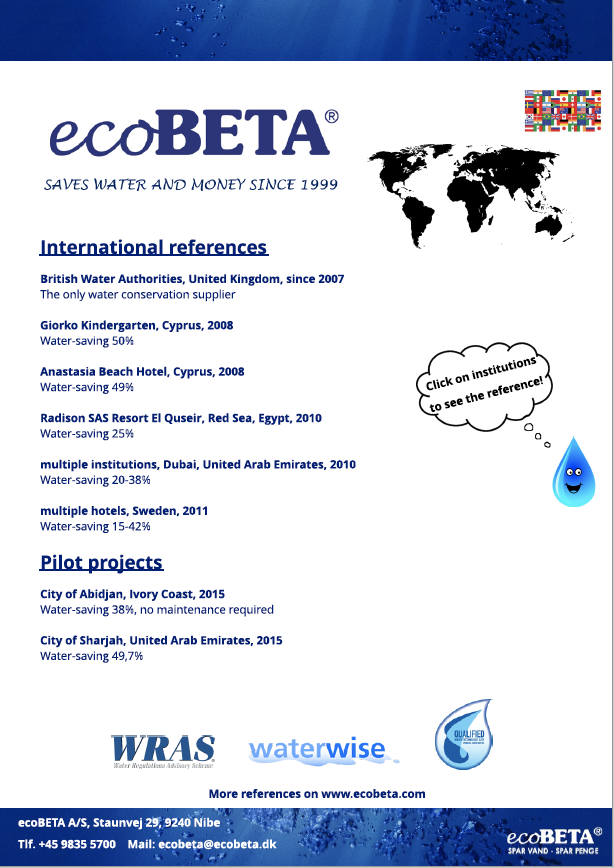 E